Regular price
$949.00 AUD
Regular price
$949.00 AUD
Sale price
$949.00 AUD
Unit price
per
Sale
Call For Availability
AFTER PAY

ZIP PAY

LAY BUY
405 Brunswick St Fitzroy

Full Aussie Manufact. Warranty

Free Shipping over $500 
Rega io Integrated Amplifier
The all new io amplifier is designed with every music lover in mind. Simple to setup and operate, the io is designed to integrate seamlessly into any hi-fi system.
The compact size allows it to be used in a variety of systems and delivers a performance well beyond its price point. As you would expect, there is a high quality built in MM (moving magnet) phono stage, two line level inputs, a redesigned mini remote control handset and high quality headphone output that is cleverly integrated to deliver optimum performance without compromising the audio circuit.
All of these features combine to deliver a powerful, well balanced musical performance at an incredible price.
The io uses the same power amplifier and phono stage as its larger brother, the multi-award winning Brio. The io aims to deliver exceptional sound quality in a smaller and more cost effective package. The class A/B circuit shares its DNA with the rest of Rega's amplifiers, and as usual, great care has been taken in component selection. Sanken output transistors and an Alps volume potentiometer and a linear power supply that enables an output of 30 watts per channel into 8 ohms.
Two line level inputs and a high quality moving magnet phono input are available as sources. There is a headphone output provided on the front of the unit for powering standard hi-fi headphones; this is driven from the power amplifier stage of the unit through relays to avoid signal degradation when headphones are inserted or the product is muted. A new remote handset is included as well.
Power outputs at 230/115 V supply voltage
30 W RMS both channels driven into the rated load of 8 Ω
Input 1 (Phono) input sensitivity 2.1 mV @ 47 kΩ in parallel with 220 pF
Maximum input 1 (Phono) input level 100 mV
Input 2-3 (Line) input sensitivity 210 mV @ 47 kΩ
Maximum input 2-3 (Line) input level 10.25 V
Headphone output
No load 8 V
32 Ω 1.6 V
54 Ω 2.4 V
300 Ω 5.7 V
Source impedance: 109 Ω
Power consumption
135 W @ 230 V / 220 V / 115 V / 100 V into the rated load of 8 Ω
Frequency response
Phono: 15 Hz to 40 kHz (-3 dB points) / 27 Hz to 20.5 kHz (-1 dB points)
RIAA accuracy: (100Hz to 10 kHz) ±0.4 dB typically better than ±0.3 dB
Line: 12 Hz (-1 dB points) to 43 kHz (-3 dB points)
Remote control
Batteries included –2 x AAA Alkaline.
Fuse ratings
T1.6 AL 250 V: 230 V / 50Hz and 220 V / 60 Hz
T3.15 AL 250 V: 115 V / 60 Hz and 100 V / 50/60 Hz
Weight
2.9Kg
Dimensions (W x D x H) in mm
180 x 290 x 68
Share
View full details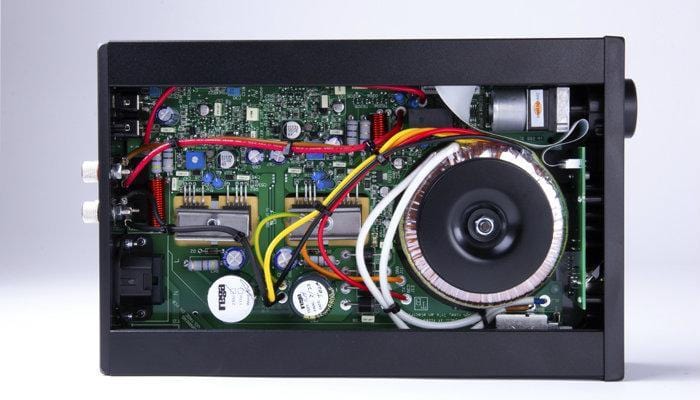 A Classic starter amplifier
I went to purchase a small system for my wife to re engage with vinyl and Hi Fi after 20 years without a really good system, We had a Bose system with a sound bar and sub woofer inside and outdoor speakers attached to the TV and DVD / CD player, I purchased a Rega turntable, the IO and Monitor Audio limited edition 100 speakers. The little Rega IO was a really warm sounding all in one capable amplifier with a built in phono input as a bonus. It has really re invigorated my interest in HiFi, and vinyl, however if I had my time again I probably would have bought a streaming amplifier all in one and sacrificed some of the old world charm and classic warmth that this little amplifier has. It has ample power for efficient speakers, and above all sounds like the amplifiers I grew up with the small NAD class A/B amps that we all used 50 years ago.. I have now bought a future Fi NAD limited edition amp, however I cannot bring myself to sell the Rega IO, and so I run two systems now, the Rega in my basement "men's shed" and the NAD in the familly room attached to the TV with room correction software. Overall the best value for money amplifier for someone who wants to experience HI Fi the classic way it was before the advent of class D.