Focal Chorus 615 Floorstanding Speakers
Focal Chorus 615 Floorstanding Speakers
TWO WAY AND A HALF FLOORSTANDING SPEAKER
Elegant and refined, the Chorus 615 tower speaker is built using 2.5-way technology in a premium hifi configuration. Sound comes into its own in your listening room, with a dynamic mid-range, doubled bass and high power. A front port low on the speaker reduces distortion and ensures faithful reproduction of bass sounds.
Innovative speaker driver and cabinet construction ensure the 615's meet the expectations placed on Focal's successful Chorus range.They feature polyglass mid/bass drivers found in higher range models,the Alpha Monitors. Stiffer than Kevlar, they ensure accurate bass whilst also handing the mids really well.The inverted tweeter made of aluminium and magnesium has already been demonstrated in the brands more expensive speakers. The tweeter's Poron surround is inherited from theFocal Utopia range which start at $18,000 a pair.All this explains why the Chorus 615s are one of the best value floorstanding speakers to be released in years.
 In its sonic performance the 615 quickly demonstrates its emphasis on neutrality, and the listener is progressively drawn in by its engaging soundstage. With a hearty dose of electric current flowing through its circuits, the 615 offers a coherent, controlled and balanced sound which is equally well-suited for rock or jazz tracks. The 615s always sound assured, confident and, given a suitably accomplished amplifier, entirely in control of the music.
Polyglass cone
A RICH MIDRANGE
---
Polyglass technology, exclusive to Focal, consists in applying molten glass microballs on a cellulose pulp cone. This process combines an excellent paper damping with glass rigidity. The mass/rigidity/damping ratio adjustment results in outstanding linearity of the frequency response curve, all from the inherent design of the cone. This innovation also greatly increases definition in the midrange.
TNV2 tweeter
A PRECISE AND SMOOTH SOUND 
---
The TNV2 tweeter features a structure of the suspension which directly comes from the speakers of the reference Utopia line! The material used is very light which means that the suspension will not become damaged or compressed with time, the distortion will be reduced and the frequency response will be improved. The result is a sound which is soft and precise and which offers improved harmonics richness and a more precise soundstage. 
Chorus design codes
MODERNISED AESTHETICS
---
You will find the elements which enabled the success of this range, such as the flawless cabinet-making techniques, the non-parallel side panels, the thick front and the many efficient reinforcement. You will then appreciate the subtle reinterpretation of the original design: The vivid and prominent lines have been replaced with smoother, more fluid curves to keep up to date with current trends. The quality of the assembly smoothens out the creases, and the choice of materials gives the speakers a sense of harmony and elegance.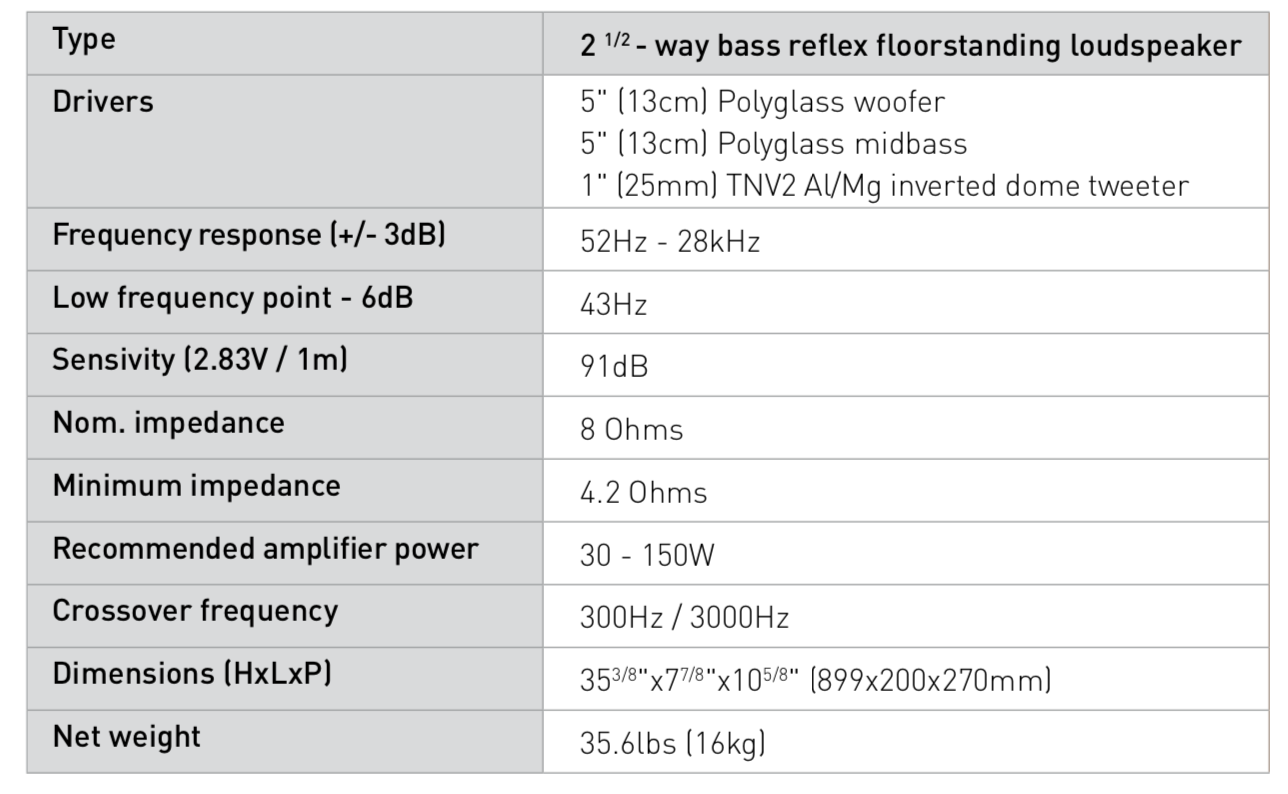 ---
---