Regular price
$1,699.00 AUD
Regular price
Sale price
$1,699.00 AUD
Unit price
per
Sale
Call For Availability
AFTER PAY

ZIP PAY

LAY BUY
405 Brunswick St Fitzroy

Full Aussie Manufact. Warranty

Free Shipping over $500 
Elac Debut F5.2 Floorstanding Speakers
After all the accolades and hot reviews on the original Elac Debut series of bookshelf speakers it would seem to have been a huge challenge for their world famous designer Andrew Jones to upgrade these amazing budget speakers to an even higher level of sonic performance.
In facing the challenge of bringing even more to the new Series 2.0 Debut by employing the technologies learned in designing the highly respected Unifi and Adante lines, Andrew Jones and Elac have done it again.....improved on a highly successful formula for a quality budget loudspeaker.Improving on its award-winning predecessor was no easy task, but the Debut F5.2 sets a yet higher standard, delivering performance in inverse proportion to its diminutive size.
And it remains the best value in the world of affordable speakers, with sound that surpasses speakers many times the price.
The Elac Debut series has certainly shaken up the world of affordable speakers with the famous speaker designer Andrew Jones stepping up to the plate with a completely new affordable range for Elac of Germany. His track record is strong as he started out working as a research engineer at KEF, then moved on infinity and later rose to prominence at TAD, where he designed the $80,000 Reference Speakers. Reviewers all over the world hailed the reference One as one of the greatest speakers of all time.
Elac have started with a clean sheet in the substantially low price point category and created a fun, extremely likeable loudspeaker that will surprise with it's bringing life into the music.The Debut F5.2 captures the nuances of the timing of the music......which can have you tapping your toes....without realising!
The new Elac Debut 2.0 design sounds like a cross between the old Debut and the newer Uni-Fi, with a clearer, more open performance than before. The F5.2 has had additional bracing installed to reduce potential sonic coloration and has a livelier, clearer sound. The 2.0 Series' midrange sounds more present and immediate.
The high frequencies are brighter and better resolved on the 2.0 Series, and it provides a more transparent window on the music. You will definitely get more bass impact out of the F5.2.With the new F5.2, the soundstage grows bigger and more three-dimensional. Where there is a heavily layered mix of acoustic and electric guitars, bass, drums and vocals they are more clearly revealed.
 The F5.2 still have the same 3 way design with a double crossover that accommodates woofers dedicated to mid and lower ranges, which is a nice feature that's normally above the pay grade of entry level speakers. The advantage of a 3 way design is that they'll sound decent as a standalone pair, while other entry level speakers would call for an additional subwoofer.
Now Elac are bringing a level of performance to affordably priced speakers that will bring music to your ears....literally.......in a way you have not heard it before.
New Tweeter with Wide-Dispersion Waveguide
A new silk-dome tweeter features a wide-roll surround and takes response up to 35,000 Hz for even more lifelike high frequencies. The waveguide improves directivity control and eliminates the diffraction modes inherent in traditional box enclosures.
New Woven Aramid-Fibre Woofer
The revised shape of the aramid cone offers even greater stiffness and damping, far superior to polypropylene or paper. The added strength allows more flexibility in design to achieve a smoother, extended low-frequency response.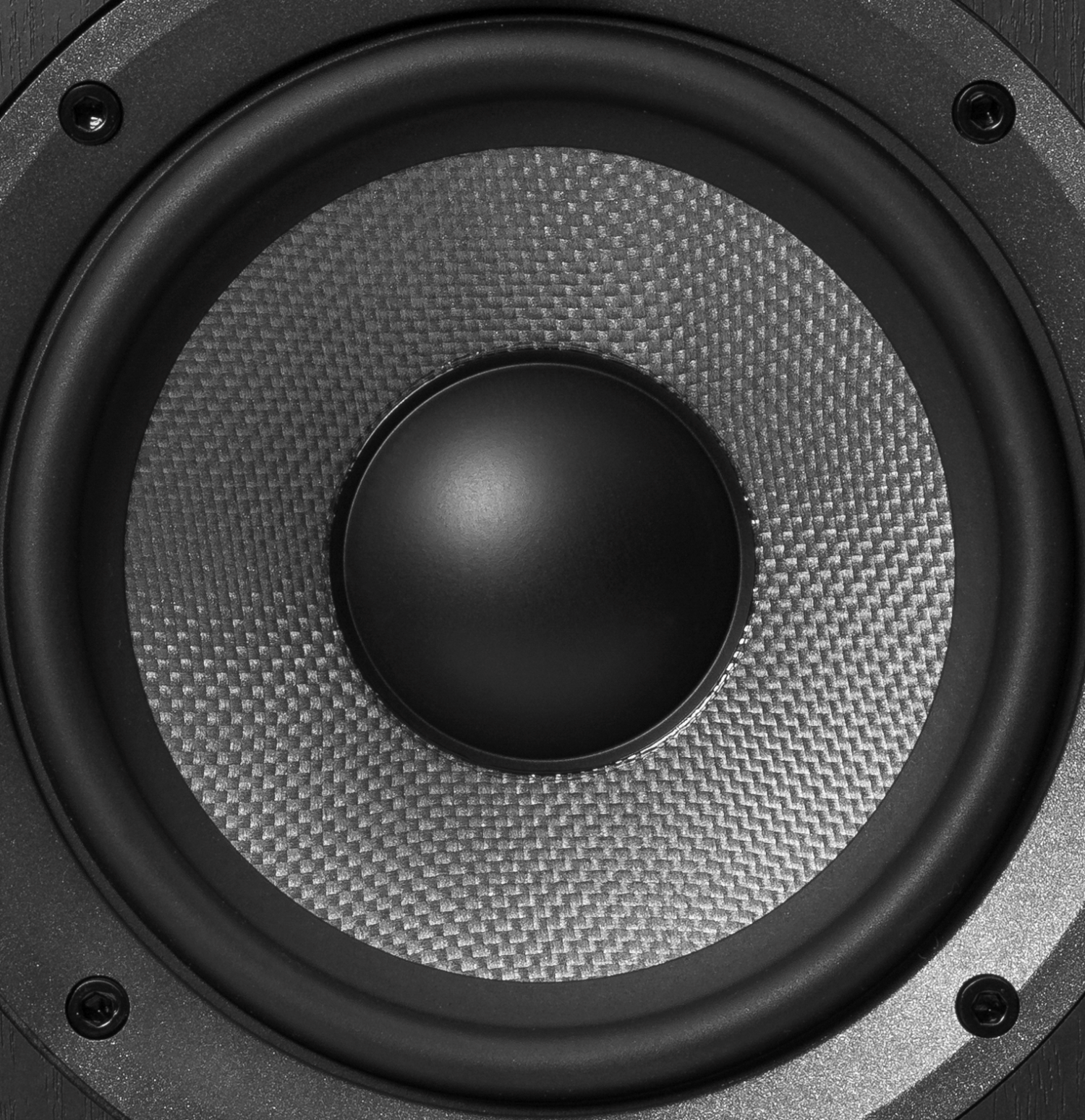 SPECIFICATIONS
Enclosure Type : 3 – Way Bass Reflex
Frequency Response: 42Hz – 35000Hz
Nominal Impedance: 6 Ohms
Sensitivity: 86db @2.83v/1m
Crossover Frequency: 90Hz/2200Hz
Max Power Input: 140 Watts
Tweeter: 1″ Cloth Dome
Woofer: Triple 5-1/4″ Aramid Fibre
Cabinet: CARB2 Rated MDF
Cabinet Finish: Black Ash Vinyl
Port: 3 x Dual Flared
Binding Posts: 5 – Way Metal
Dimensions (WxHxD) : 180mm x 1016mm x 234mm
Share
View full details